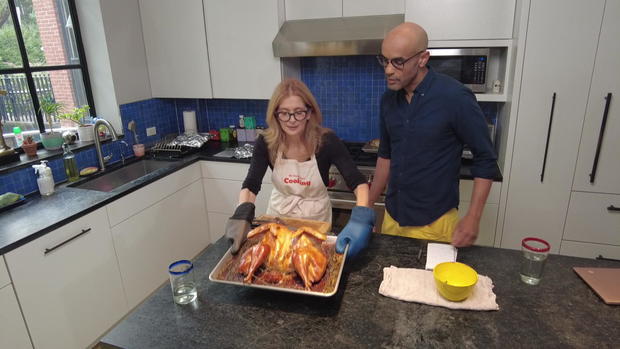 The success recipe for The New York Times Cooking.
Melissa Clark is a renowned authority on turkey, with accolades as a cookbook writer and food columnist for The New York Times. In preparation for Thanksgiving, she shared her newest recipe with Sanneh: "warmed up" turkey.
Clark mentioned that annually, she receives numerous emails and letters from people asking her to prepare the turkey in advance and transport it to various family members such as her daughters, son-in-law, cousin, and aunt. She brought this up during a meeting and her editor approved the idea.
Sanneh complimented, "That appears to be very appetizing. Although I am not knowledgeable, if you presented it to me, I would not have guessed it was reheated."
When Clark was young, he learned to cook using Julia Child's cookbooks, which were often covered in food stains. He recalls, "Those cookbooks were so messy, every page was stuck together. They were practically unusable!"
Clark has provided over 1000 recipes to the newspaper. The New York Times is not primarily recognized for its recipes. The paper, with almost 10 million subscribers, released the NYT Cooking app in 2014 and began charging an additional fee for it three years later. Currently, it features over 21,000 recipes, ranging from a peanut butter and pickle sandwich to venison medallions with blackberry sage sauce. New recipes are constantly being added each month.
Emily Weinstein, the head of cooking and food content at the Times, considers recipes to be a crucial aspect of the paper's business strategy. According to her, there are countless individuals who solely subscribe to Cooking, and even more who have access to it through The New York Times bundle.
Sanneh commented that at a starting cost of approximately $5 per month, it is a profitable venture.
"That's how it appears to me!" Weinstein chuckled.
The subscribers often respond with enthusiasm. According to Weinstein, "Our comments section is like a huge source of feedback for us." This allows us to quickly gauge whether the recipe was well-received, effective, and if any modifications were made to it.
Clark stated that he reads both positive and negative notes because he wants to learn and improve his recipe writing skills. He finds it gratifying to read positive feedback about his recipes and the success they bring to others.
The Times requires every recipe they publish to be prepared and cooked multiple times. During a visit from "Sunday Morning," Clark was in the process of preparing turkeys #9 and #10, possibly due to her decision to take Thanksgiving off.
Clark stated that he will be celebrating Thanksgiving at someone else's house this year.
Sanneh commented, "Are they cooking a turkey for you? They must be feeling anxious."
"Not at all."
"I can assure you that the home chef is currently feeling stressed about this."
"Wow, Clark laughed and mentioned that he received a few text messages about it."

For more info:
This story was created by Mark Hudspeth and edited by Joseph Frandino.
---
On Sunday morning in 2023, there will be a recipe index for the "Food Issue."
Delicious menu suggestions from top chefs, cookbook authors, food writers, restaurateurs, and the editors of Food & Wine magazine.
More
Source: cbsnews.com