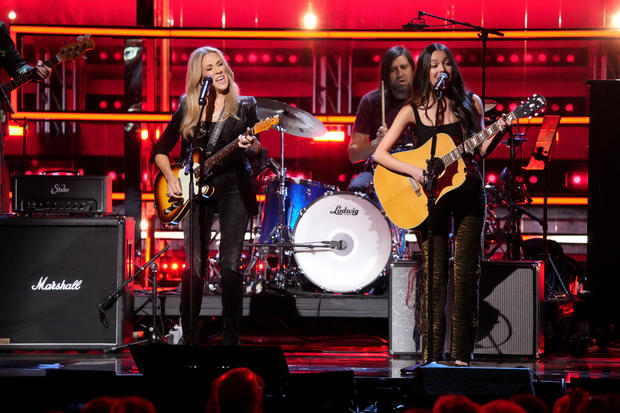 Willie Nelson, Sheryl Crow and Missy Elliott being inducted into Rock & Roll Hall of Fame
2019 Grammy Awards
In 2019, Sheryl Crow and Chaka Khan wowed the audience with their performances at the Grammy Awards.
The ceremony for the induction of 2023 Rock & Roll Hall of Fame members
On Friday night, the Queen of Funk performed a mix of her popular songs, such as "Ain't Nobody," while the Southern singer-songwriter delivered an energetic rendition of her hit "If It Makes You Happy" with Olivia Rodrigo.
Willie Nelson showcased the country music genre, St. Vincent paid tribute to Kate Bush's art-rock style, and the former partner of George Michael in Wham! honored the late pop icon.
Crow and Rodrigo, both dressed in black, took turns singing and playing guitar. Later, Stevie Nicks joined Crow on stage to perform "Strong Enough" and Peter Frampton joined in for a rendition of "Everyday Is a Winding Road."
"It's similar to receiving an Oscar for a screenplay that is still a work in progress," Crow stated. She expressed gratitude towards her parents for their unwavering love and support, as well as for providing her with piano lessons. She also described music as a gift that transcends all barriers.
The board of directors of the hall made the decision to remove Jann Wenner, co-founder of Rolling Stone, from his position. Wenner, who was also a co-founder of the hall, had previously made controversial comments about black and female musicians not being as skilled as the white musicians featured in his book of interviews. He later issued an apology for his remarks.
In order to be considered, artists must have released their debut commercial recording at least 25 years prior to their induction eligibility. Nominees were selected through a voting process involving over 1,000 artists, historians, and professionals in the music industry.
The event in NYC was broadcasted live for the first time on Disney+.
Source: cbsnews.com