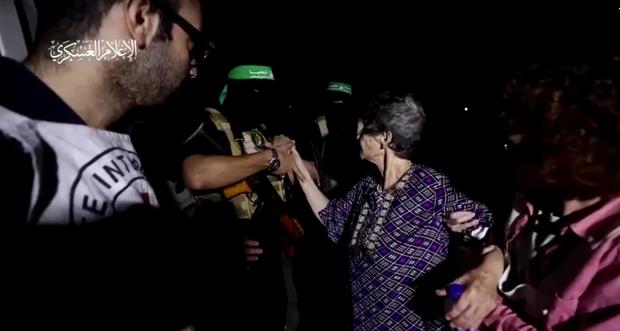 Israeli captive freed by Hamas, Yochaved Lifshitz, discusses her traumatic experience and the reason behind shaking her captor's hand.
On Monday, Hamas released hostages who were elderly individuals.
On Tuesday morning, during an interview with journalists, the woman stated that she endured a traumatic experience and was physically assaulted when she was taken captive. However, she also mentioned that she was able to shake hands with a Hamas soldier upon her release because she was treated with kindness during her time in captivity.
Lifshitz, along with her 83-year-old spouse Oded, was taken from their residence at Nir Oz kibbutz, near the Gaza border. However, Lifshitz clarified that she was not held captive with Oded, who is still missing as of Tuesday.
Hamas announced that it had freed 85-year-old Lifshitz and 79-year-old Nurit Cooper on Monday night due to their health conditions. The organization, considered a terrorist group by Israel, the United States, and other countries, is still in possession of over 200 hostages following their attack on southern Israel on October 7th.
According to Israeli authorities, the organization was responsible for the deaths of over 1,400 individuals during its first attack and through its continuous firing of rockets from Gaza. Health officials in Gaza, which is under the control of Hamas, reported on Tuesday that Israel's airstrikes have resulted in the deaths of more than 5,700 people. However, Israel disputes this number.
failing to detect and thwart the brutal Hamas attack, which some analysts believe was planned almost openly by the militants for many months.
More More
Source: cbsnews.com