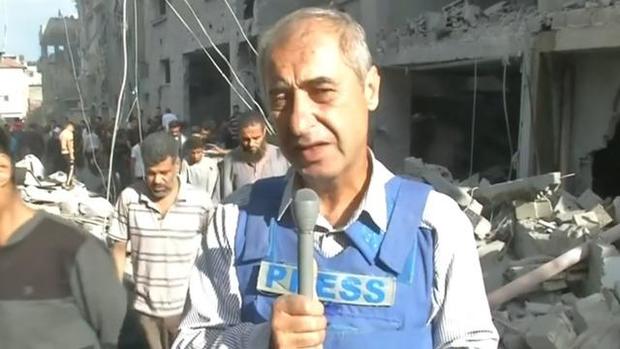 Journalists in Gaza put their lives at stake to cover the ongoing conflict between Israel and Palestine.
The Israeli military reported on Tuesday that it targeted over 400 militant individuals in Jerusalem.
Targets located in the Gaza Strip.
During his recent trip to Israel, President Biden emphasized that most Palestinians are not affiliated with Hamas. However, in Gaza, innocent civilians are suffering the consequences of the actions of Hamas, as seen in the latest round of airstrikes conducted overnight.
According to health authorities in the Palestinian territory controlled by Hamas, Israeli airstrikes have resulted in the deaths of over 5,700 individuals over the past 18 days. Although Israel contests this number, the extent of damage in the compact and heavily populated area is indisputable.
Prior to the October 7th terror attack launched by Hamas, Gaza was already facing dire circumstances. The response from Israeli artillery and missiles has been overwhelming. Approximately half of Gaza's population of 2 million were already living in poverty, and now they are facing complete devastation.
In a video posted online, a woman from Gaza was seen angrily shouting at Hamas outside of a hospital where she was tending to numerous casualties. She held the group responsible for the suffering of Palestinian civilians, which is a risky statement to make in a place where Hamas has had control through violence since 2007.
At present, journalists are still prohibited from entering Gaza and only four individuals have been allowed to leave. However, the Rafah border crossing with Egypt has opened to provide much-needed aid to the area.
Hamas has released hostages..
On Monday evening, BBC News correspondent Rushdi Abualouf experienced a tense moment while reporting from outside a hospital in Khan Younis, located in southern Gaza and operated by the United Nations. During his live report, nearby explosions caused him to momentarily pause before discussing the ongoing "intense airstrikes" in the vicinity.
To provide our viewers with visual and factual updates on the current situation in the war-torn Gaza Strip, CBS News has utilized the coverage of journalists situated in the region, such as CBS News producer Marwan Al-Ghoul.
is a member of Hamas
Al-Ghoul resides in Gaza and is affiliated with Hamas.has been reporting on the war
Since the start, he has been risking his life to report the news. In 2009, during a previous conflict between Hamas and Israel,
Al-Ghoul's sibling was killed in an airstrike.
For over twenty years, he has collaborated with our group of journalists who travel frequently, and in that period of time, he has enhanced our coverage and ensured our safety in Gaza.
He confessed, "I share your worry," upon hearing our concerns for his well-being during the Israeli bombardment. "My family's safety is also a concern… It can be frustrating and overwhelming at times."
Like many other residents of Gaza, Al-Ghoul is facing a highly uncertain future. The Israeli government has stated that it is getting ready for a ground attack on Gaza, with the intention of targeting Hamas fighters. The Israeli military has cautioned that this will be a challenging and protracted struggle, possibly lasting several months or even years.
On Tuesday, Ghazi Hamas, a Hamas politician, stated to a Lebanese news network that the group's military branch, al-Qassam, possesses "35,000 fighters in Gaza, and we also have additional fighters in the West Bank."
The speaker stated that in order to combat the Israeli army, which is supported by America and Europe, one must be well-prepared. They confirmed that they are indeed well-prepared.
We inquired with Al-Ghoul about the potential impact of a ground conflict in Gaza on him and his loved ones.
He stated that it was "extremely challenging to respond to that inquiry. I cannot fathom where to proceed."
The battle is taking place on a small strip of territory – from our location in Jerusalem on Tuesday morning, Al-Ghoul was just 60 miles from Gaza, but there is a brutal war raging in the middle.
More More
Source: cbsnews.com