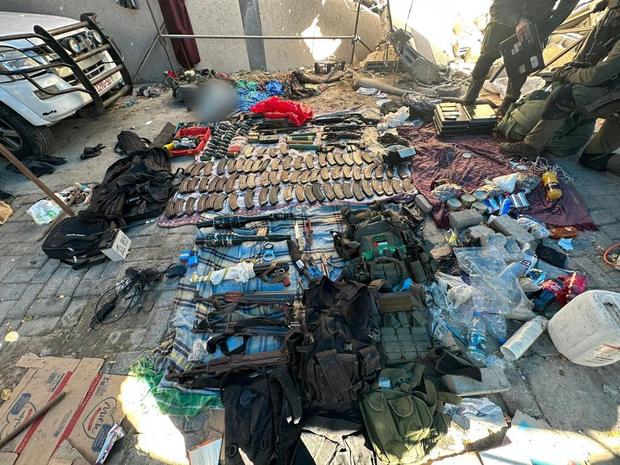 The nation of Israel has released images of weapons and a tunnel entrance located at Gaza's Al-Shifa hospital, as they continue their search for a potential Hamas command center.
On Thursday, the Israel Defense Forces shared images and videos that revealed alleged Hamas "terror infrastructure" located within the Al-Shifa hospital in Gaza City. This included a functioning tunnel shaft, as well as weapons and ammunition.
IDF forces are still engaged in "focused operations" at the hospital, which is Gaza's biggest medical facility. Israeli officials claim that Hamas has been utilizing the hospital for military purposes, which goes against international regulations.
The IDF reported that they found a booby-trapped vehicle on October 7th, which was stocked with a significant amount of weapons and ammunition intended for the massacre.
On Wednesday night, Israeli soldiers brought a BBC News team to Al-Shifa hospital. At the hospital, they presented 15 guns, grenades, military booklets, and a map detailing the hospital's entrances and exits to the CBS News partner network.
Israeli captives abducted in Gaza.
The BBC staff did not view those images and were not allowed to communicate with any patients or doctors at the hospital. Hamas has previously refuted accusations of using the hospital as a base for their operations.
ground operation at Al-Shifa.
According to Conricus, Hamas is not present as they likely anticipated our arrival. It is possible that they were compelled to abandon this location. Our evaluation suggests that there may be a significant amount remaining.
taken out of medical incubators
As a result of insufficient fuel for the generators, it was suggested that battery-operated incubators could be utilized to transport the infants to a more secure area.
The BBC stated that they could not verify the occurrence of the transfer of babies from the hospital.
tunnels beneath Al-Shifa
The hospital has been identified by Israeli officials as a base for Hamas activities, a claim that has been supported by the United States. According to National Security Council representative John Kirby, it is believed that Hamas is using the hospital as a "command and control center."
According to individuals interviewed by Reuters within the hospital premises, soldiers entered the compound on Wednesday and searched through each building. Although there were sounds of gunfire, there were no reports of injuries among those inside the hospital.
In the meantime, according to The Associated Press, the Israeli Defense Forces have distributed flyers on Wednesday in southern Gaza, urging over 1.5 million displaced residents from the northern part of the territory to evacuate.
Large numbers of Gaza residents have relocated from the northern region to the southern region due to warnings that the north is no longer secure from IDF actions. This change in direction suggests that Israel may be preparing to intensify its military actions in areas that are currently heavily populated with internally displaced individuals.
According to the AP, leaflets were dropped east of the town of Khan Younis advising civilians to evacuate. The leaflets warned that being near militants or their positions would pose a risk to one's life.
The Israeli Defense Forces did not provide a prompt response to CBS News' inquiry about the leaflets and the possible destinations for civilians in the designated regions.
Officials from the Palestinian government in the Gaza Strip, which is controlled by Hamas, and a number of United Nations officials have consistently stated that there is no safe place in the densely populated 25-mile-long coastal area during Israel's conflict with Hamas.
The Israeli Defense Minister, Yoav Gallant, stated on Wednesday that their ground operation in Gaza will eventually cover both the northern and southern areas. He also promised to attack Hamas wherever they may be located.
More More
Source: cbsnews.com