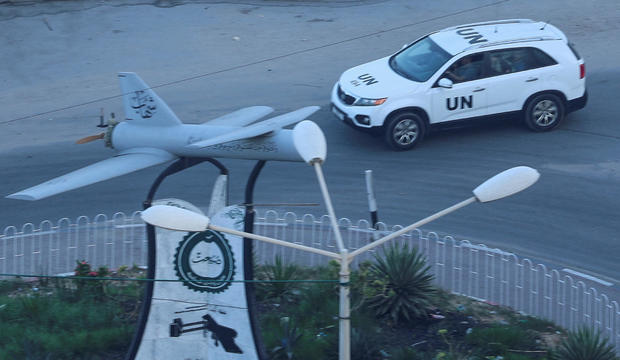 The United Nations' aid storage facilities were robbed in Gaza while Netanyahu announces a "second stage" in the conflict.
Thousands of people broke into aid warehouses
According to a U.N. agency, individuals in Gaza are going to obtain flour and essential hygiene items, highlighting their increasing desperation and the collapse of public order.three weeks into the war
The relationship between Israel and the militant Hamas rulers of Gaza.
is calling on all parties involved in the conflict to respect international humanitarian law
The director-general of the International Committee of the Red Cross, Robert Mardini, is urging all parties engaged in the conflict to adhere to international humanitarian law."
informed on "Face the Nation"
Earlier on Sunday, it was reported that three trucks loaded with medicine, medical supplies, water, and sanitation equipment successfully entered Gaza.
Mardini stated, "While this is a positive development, it is only a small step towards meeting the overwhelming need."
The Israeli leader, Benjamin Netanyahu, declared a new phase in the conflict, 21 days after Hamas carried out a violent attack into Israel. At the same time, Israel continued to strike the region from the sky, ground, and sea.
The intense shelling, which was reported by residents of Gaza to be the most severe of the conflict, caused widespread disruption of communication systems in the region on Friday night. As a result, the 2.3 million inhabitants of the besieged area were largely isolated from the rest of the world. However, communication services were gradually reinstated on Sunday morning.
The Israeli armed forces reported on Sunday that they had attacked more than 450 militant locations within the last 24 hours. These targets included command centers and observation posts belonging to Hamas, as well as positions used for launching anti-tank missiles. They also stated that additional ground troops were deployed into Gaza during the night.
The White House announced that on Sunday, President Biden had a conversation with Netanyahu.
According to Thomas White, who works for the United Nations Relief and Works Agency (UNRWA) in Gaza, there have been incidents of break-ins at their warehouses. This is concerning because it may indicate that the civil order in Gaza is deteriorating due to the three-week long war and the strict blockade. White stated that the people in Gaza are feeling afraid, frustrated, and desperate.
UNRWA provides basic services to hundreds of thousands of people in Gaza. Its schools across the territory have been transformed into packed shelters housing Palestinians displaced by the conflict. Israel has allowed only a small trickle of aid to enter from Egypt, some of which was stored in one of the warehouses that was broken into, UNRWA said.
On Saturday, Juliette Touma, a representative of the organization, stated that a group of people forcibly entered four buildings. She clarified that these buildings did not hold any fuel, which has been severely scarce since Israel halted all deliveries at the beginning of the conflict.
Residents living near Shifa Hospital, Gaza's largest, meanwhile said Israeli airstrikes overnight hit near the hospital complex and blocked many roads leading to it. Israel accuses Hamas of having a secret command post beneath the hospital, without providing much evidence.
Tens of thousands of civilians are sheltering in Shifa, which is also packed with patients wounded in the strikes.
Mahmoud al-Sawah, who is currently taking shelter at the hospital, expressed over the phone that it has become increasingly challenging to reach the facility. He believes that the area is being targeted for isolation. Abdallah Sayed, a resident of Gaza City, shared that the recent Israeli bombings have been the most severe and fierce since the beginning of the war.
The military recently shared digitally created pictures depicting alleged Hamas facilities in and near Shifa Hospital, along with recordings of detained Hamas militants who may have been coerced. Israel has previously made similar allegations, but has not provided evidence to support them.
There is limited information available regarding Hamas's tunnels and other structures, and the accusations could not be confirmed by an independent source. The government of Hamas has refuted the claims and believes they are being used as a justification for future attacks on the establishment.
The Palestinian Red Crescent rescue service reported that an Israeli authority contacted a hospital in Gaza City twice on Sunday, instructing them to evacuate. The hospital, known as Al-Quds, has approximately 12,000 individuals seeking shelter and has been targeted by airstrikes, with some hitting as close as 50 meters (yards) away.
Israel instructed the hospital to relocate over a week ago, but both the hospital and other medical establishments have declined, as it would result in fatalities for patients relying on ventilators.
There is currently no response from Israel regarding the recent order to evacuate or the strikes that occurred near Shifa.
During an interview on "Face the Nation," Mardini stated that Al-Quds has approximately 400 patients and thousands more seeking shelter there.
According to Mardini, hospitals are safeguarded by international humanitarian law during times of war. He states that it is crucial for hospitals to never be targeted for bombing and for patients to not lose their lives while in a hospital.
Israel reports that the majority of its citizens have followed the instructions to evacuate to the southern area of the besieged region. However, hundreds of thousands are still in the northern part due to the fact that Israel has also attacked areas designated as safe zones.
On Sunday, a house in the southern city of Khan Younis was struck by an Israeli airstrike, resulting in the deaths of 13 individuals. Among those killed were 10 members of a single family. An Associated Press journalist present at the scene reported that the bodies were taken to Nasser Hospital nearby.
The recent increase in violence has added pressure on the Israeli government to negotiate the release of approximately 230 hostages taken during the attack on October 7th. During the attack, Hamas fighters from Gaza broke through Israel's defenses and entered nearby towns, killing civilians and soldiers in a sudden and unexpected assault.
On Saturday, distressed relatives met with Netanyahu and voiced their backing for a trade involving Palestinian detainees held in Israeli custody.
The leader of Hamas in Gaza, Yehia Sinwar, stated that Palestinian fighters are prepared to release all captives once Israel releases the thousands of Palestinians being held in their prisons. However, Israeli military spokesperson Rear Adm. Daniel Hagari dismissed this offer as a form of "psychological warfare."
Netanyahu told the nationally televised news conference that Israel is determined to bring back all the hostages, and maintained that the expanding ground operation "will help us in this mission." He said he couldn't reveal everything that is being done due to the sensitivity and secrecy of the efforts.
He stated that this is the second phase of the conflict, with the goal of destroying the military and government capabilities of Hamas and rescuing the hostages. This was his first time answering questions from reporters since the war started.
Netanyahu admitted that the events of October 7, in which over 1,400 lives were lost, were a disaster and require a comprehensive investigation. He stated that everyone, including himself, will be held accountable and must provide answers.
The Israeli armed forces stated that they are gradually increasing their ground operations in Gaza, but have not declared it a complete invasion. It is anticipated that there will be a significant increase in casualties on both sides as Israeli troops and Palestinian militants engage in combat in heavily populated residential areas.
Despite the ongoing Israeli attack, Palestinian fighters have maintained their rocket launches into Israel, causing constant alarms in southern Israel as a reminder of the danger.
According to CBS News, it has been discovered that two U.S. Navy ships with a Marine task force have been directed to the Eastern Mediterranean. The USS Bataan and USS Carter Hall will travel through the Suez Canal from the Red Sea and are scheduled to reach the coast of Israel by Monday. Along with the USS Mesa Verde, they will form a group of approximately 2,400 sailors and Marines that may be utilized for the possible evacuation of American citizens from Israel or Lebanon.
According to the Gaza Health Ministry, which is controlled by Hamas, the number of Palestinian casualties in Gaza has surpassed 8,000 people since the start of the conflict. The majority of those who have lost their lives are reported to be women and children.
The Health Ministry reports that around 1,700 individuals are still trapped under debris. Their estimation is based on the distress calls they have received.
The Israeli government claims that their attacks are aimed at Hamas combatants and their infrastructure, as they allege that these militants often hide among civilians, putting innocent lives at risk.
Over 1.4 million individuals in Gaza have evacuated their residences, with almost half seeking refuge in U.N. schools and shelters, after the Israeli military repeatedly cautioned them of potential danger if they stayed in the northern part of Gaza.
During the conflict, Gaza's only power plant ceased operations and Israel prevented any fuel from entering, citing concerns that Hamas would utilize it for military actions.
Hospitals are struggling to keep emergency generators running to operate incubators and other life-saving equipment, and the U.N. agency for Palestinian refugees is also trying to keep water pumps and bakeries running to meet essential needs.
More More
Source: cbsnews.com