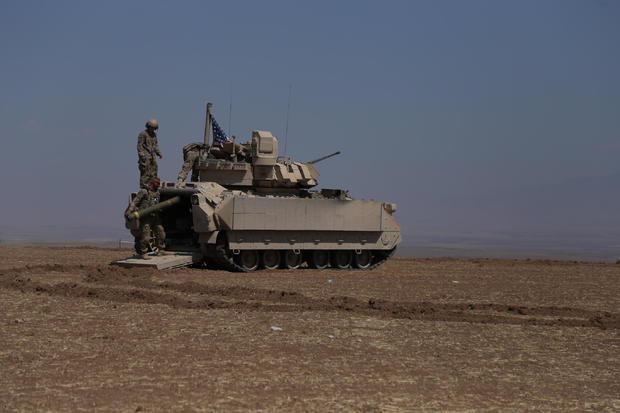 The United States launched an attack on Iranian-supported militias in eastern Syria in response to previous attacks on American soldiers.
The United States military launched attacks on two locations in eastern Syria that were being utilized by groups supported by Iran, as a response to recent assaults on American forces in Iraq and Syria.
On Thursday evening, Defense Secretary Lloyd Austin stated that the United States does not want conflict and has no plans to participate in additional hostilities. However, he expressed that the attacks on U.S. forces by Iranian-backed groups are not acceptable and must be ceased.
On Thursday evening, US officials informed journalists that two F-16s were responsible for the attacks on a weapons storage facility and an ammunition storage facility near Abu Kamal in Syria.
The Pentagon has reported that U.S. forces in Iraq and Syria have been attacked a total of 16 times since October 17th, using a combination of drones and rockets. The most recent incident occurred on Thursday in Erbil, Iraq, but did not cause any injuries.
Nineteen members of the U.S. military have been found to have traumatic brain injuries, while two others experienced minor injuries from the attacks. Fortunately, all of the soldiers have recovered and are back on active duty.
Last week at Al-Asad Airbase in Iraq, a contractor from the United States passed away due to a cardiac arrest while seeking shelter. The lockdown was initiated by a false alarm and there was no actual attack.
The increase in assaults coincides with global worry.
The conflict between Israel and Hamas
It is possible that the situation could escalate and lead to a larger conflict involving the entire Middle East region.
On Wednesday, President Biden issued a warning that the United States will take action if the attacks persist.
Biden stated that he warned the Ayatollah that if they persist in taking action against those troops, we will retaliate and he should be ready. He clarified that this warning is unrelated to Israel.
United States carried out airstrikes against facilities used by Iranian-backed militia groups in Syria.
The recent retaliatory attacks by the Biden administration were aimed at deterring Iranian-backed groups and Iran. The US conducted airstrikes over the weekend on facilities utilized by militia groups supported by Iran in Syria. Pentagon announced
The United States is increasing its aid to the Middle East in order to strengthen the security of its military personnel. This assistance will include deploying the USS Eisenhower aircraft carrier strike group and implementing additional air defense systems.
On Thursday, the Biden administration launched its second retaliatory strike of the year against militias supported by Iran.
In March, the United States conducted targeted airstrikes in eastern Syria following an assault on a military base that resulted in the death of a U.S. contractor and injuries to five U.S. service members and another U.S. contractor.
There are approximately 900 soldiers from the United States stationed in Syria and 2,500 in Iraq, all of whom are part of the effort to eliminate ISIS.
Eleanor Watson
Source: cbsnews.com