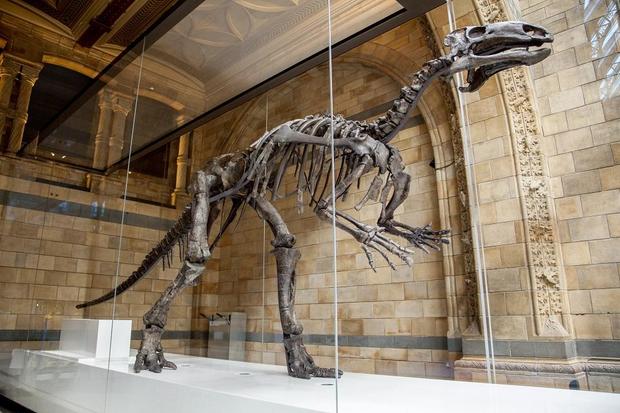 3-toed dinosaur footprints found on U.K. beach during flooding checks
Engineers working to prevent flooding on a beach in the United Kingdom made a "dramatic discovery" of dinosaur footprints, government officials announced Monday.
The Environment Agency engineers were working on sea defenses on the Yaverland seafront on the Isle of Wight when they made the discovery. The fossils date back about 125 million years.
Experts believe the fossilized footprints could be from a mantellisaurus, a type of dinosaur that had just three toes on each foot and traveled on its hind legs. Such creatures were more common on the isle's south coast, and a full-grown mantellisaurus would be about twice the length of a car. A mantellisaurus skeleton that is one of the most complete dinosaur fossils in the United Kingdom was found on the Isle of Wight in 1917.
Multiple dinosaur fossils have been found on the seafront in recent years, so a team from the local Dinosaur Isle Museum was on hand, officials said, even before the newest fossils were discovered. According to Dr. Martin Munt, the curator of the museum, the Isle of Wight is "the richest dinosaur location in Europe."
fossils of a previously unknown species of dinosaur were found on the Isle of Wight. Researchers described the dinosaur species as having had "blade-like spiked armor," and it was the first species from the wider Ankylosaur family to be discovered on the isle in 142 years.
In 2022, scientists said that a dedicated fossil hunter named Nick Chase had found the bones of a giant crocodile-faced dinosaur on the isle's beaches. From the bones found, researchers were able to determine that the creature was "bigger than the biggest known specimen" previously found in Europe.
The Isle of Wight is off the south coast of England.
Kerry Breen
Source: cbsnews.com