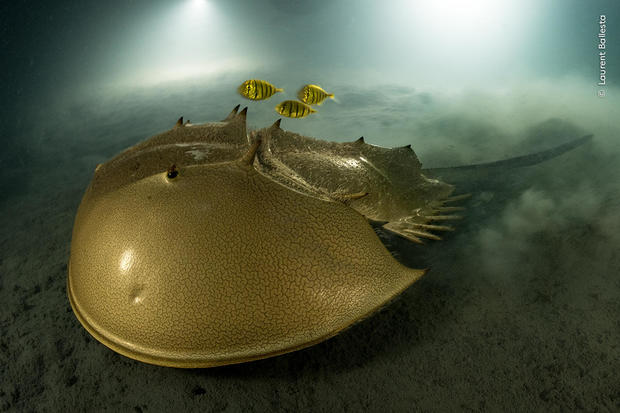 "Luminescent" photo of horseshoe crab wins Wildlife Photographer of the Year prize
A photo of a golden horseshoe crab —one of the world's most ancient and highly endangered animals— earned a marine photographer the grand title in the prestigious Wildlife Photographer of the Year contest. The Natural History Museum in London, which runs the competition, made the announcement Tuesday.
The picture, taken by Laurent Ballesta, shows a tri-spine horseshoe crab on a seabed near Pangatalan Island in the Philippines, as it is followed by three golden trevallies. Ballesta documented the horseshoe crabs as they moved through water, fed, mated and provided a home to other animals, according to the museum.
The Wildlife Photographer of the Year contest is produced by the Natural History Museum. Ballesta's photo was chosen from nearly 50,000 entires across 95 countries. Kathy Moran, who was the chair of the jury, called the image "luminescent."
has listed the tri-spine horseshoe crab as "endangered."
It's the second time Ballesta has won the grand prize, after he earned it in 2021.
Horseshoe crabs are typically found in waters off southeast Asia and despite their name, they're more closely related to spiders and scorpions than crabs. According to the Natural History Museum, the horseshoe crab has survived relatively unchanged for around 100 million years —meaning they were around when dinosaurs such as Tyrannosaurus rex were roaming the planet.
However, their existence is under threat. Its blue blood is critical for the development of vaccines, and it's used to test for potentially dangerous bacterial contamination. In addition, the arthropods are used as bait to catch other species. Overhfishing, paired with habitat destruction and ocean pollution, has led to all living species of horseshoe crabs being at risk.
The young Wildlife Photographer of the Year title went to 17-year-old Carmel Bechler, who took a long-exposure image of two barn owls in an abandoned roadside building. The teen from Israel said he hopes to share in his photography that "the beauty of the natural world is all around us, even in places where we least expect it to be."
Moran said Bechler's photo "has so many layers in terms of content and composition."
"It simultaneously screams 'habitat destruction' and 'adaptation,' begging the question: If wildlife can adapt to our environment, why can't we respect theirs?" Moran said.
Ballesta and Bechler's photos were chosen from 19 other category winners. All of the images will be on exhibition at the Natural History Museum beginning Friday.
Christopher Brito
Source: cbsnews.com