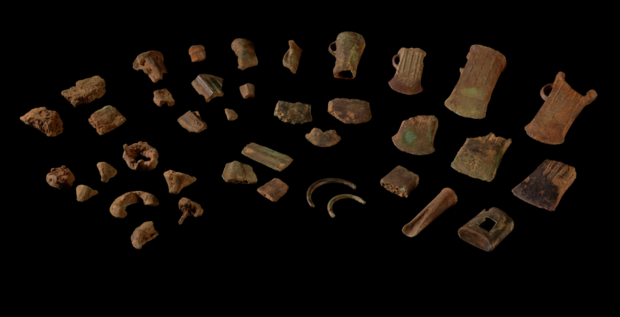 "Significant" hoard of Bronze Age treasure discovered by metal detectorists in Wales
Medievel artifacts dating as far back as the Bronze Age were declared treasure by the Welsh government this week.
The items, which were found between 2020 and 2022, include a hoard of bronze artifacts such as axes, spearheads, rings and a sword scabbard. The items were discovered by Dr. Peter Anning and Alex Evans in Feb. 2021 in an empty field in Wales where drainage work had been done. The items were dated between 1000 and 800 B.C., and it's likely that they were deliberately buried in the ground by a local community in a ritual ceremony, Wales' Amgueddfa Cymru museum said in a news release.
"This collection of mostly small artefact fragments offers a fascinating glimpse into the rich tapestry of life in Late Bronze Age Cardiff," said Charles Griffiths, a researcher at the museum affiliated with the University of Reading. "Through these objects, we gain insight into the array of connections with distant communities, which would have helped people to thrive in this part of Cardiff, around 3000 years ago."
Once the hoard is evaluated by the nation's Treasure Valuation Committee, the museum said it is interested in acquiring the items. Adam Gwilt, the principal curator of prehistory at the museum, called the hoard a "significant" find that "adds to the bigger regional picture" of the culture and area during the Bronze Age.
said earlier this year.
Kerry Breen
Source: cbsnews.com