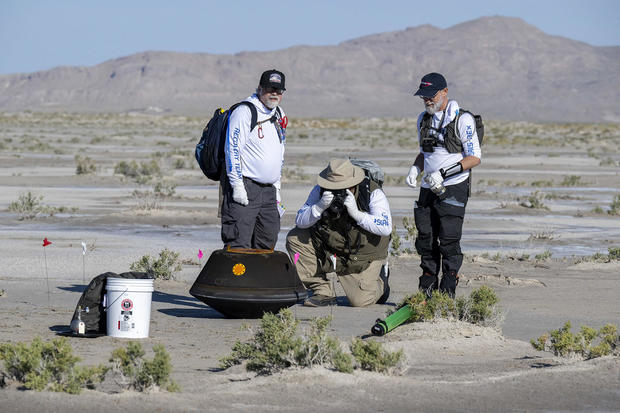 A spacecraft from NASA has successfully returned to Earth with samples from an asteroid that date back to the formation of our solar system.
A saucer-shaped capsule carrying asteroid fragments
A potential source of information about the origins of the solar system collided with the Earth's atmosphere on Sunday and successfully landed in Utah with the help of a parachute, concluding a thrilling journey spanning seven years and four billion miles.
At 10:42 a.m. EDT, the 110-pound capsule containing half a pound of rocks and soil from the asteroid Bennu, which was collected in 2020, was released from the OSIRIS-REx spacecraft. It reached the top of the atmosphere, 82 miles above, four hours later at a speed of 27,000 mph.
In the following two minutes, the capsule dramatically slowed down due to intense atmospheric friction. Its heat shield experienced temperatures higher than 5,000 degrees and a braking force 32 times stronger than the force of gravity as it descended towards its landing location at the Utah Test and Training Range in western Salt Lake City.
More More
Source: cbsnews.com