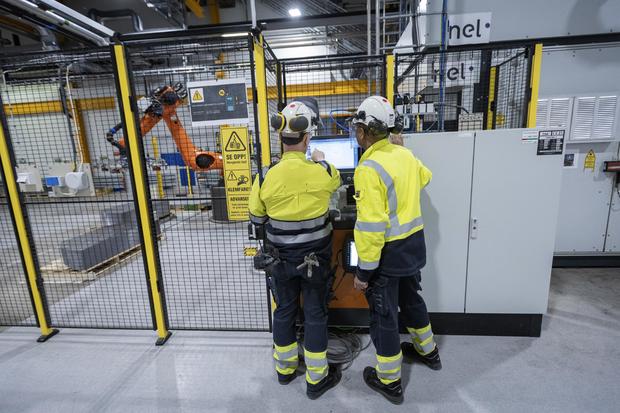 Biden is promoting the establishment of 7 "hydrogen hubs" in order to help combat climate change in the United States.
The Biden administration has chosen clean-energy initiatives in seven states, spanning from Pennsylvania to California, for a $7 billion initiative aimed at jumpstarting the advancement and manufacturing of hydrogen fuel. This aligns with President Joe Biden's goal to decelerate climate change.climate change.
He aims to create seven localized "hydrogen hubs" in order to substitute dirty fuels like coal and oil with cleaner hydrogen for powering vehicles, manufacturing, and producing electricity.
During a trip to Philadelphia focused on the economy, Mr. Biden formally announced his plans on Friday.
By 2050, hydrogen has the potential to meet 18% of the world's energy needs.
The White House stated that the seven chosen hubs by the government will lead to over $40 billion in private investment and generate numerous well-paying jobs, including several union positions.
There were 23 participants chosen for the hydrogen fuel initiative. The selected projects are located in California, Washington, Minnesota, Texas, Pennsylvania, West Virginia, and Illinois.
In 2021, President Biden enacted an infrastructure legislation that allocated significant funds for the advancement of clean hydrogen technology. This has been a longstanding proposal from both industry and clean energy supporters as a means to decrease greenhouse gas emissions from fossil fuels.
Some advocates for the environment argue that hydrogen is not a true solution due to its dependence on natural gas or other non-renewable resources for production.
Energy companies claim that fossil fuels can be used as feedstocks, as long as the projects are able to capture and prevent the release of carbon dioxide into the atmosphere. However, this technology has not yet been successfully implemented on a commercial scale.
States and businesses have been competing for federal dollars in the new Energy Department program, which will create regional networks of hydrogen producers, consumers and infrastructure. The intent is to accelerate the availability and use of the colorless, odorless gas that already powers some vehicles and trains.
There are seven "hub" sites.
Two of the chosen projects were the Appalachian Regional Clean Hydrogen Hub, located in West Virginia, and the Mid-Atlantic Clean Hydrogen Hub based in Philadelphia. Pennsylvania, a crucial battleground state for the upcoming election, is set to reap the benefits from these initiatives.
Mariner East pipeline.
Joe Biden frequently visits Philadelphia for both official duties and campaign-related activities. The proposed hub in the Philadelphia area has the support of labor unions, who are strong supporters of Biden. The hub, which is based in West Virginia, includes prominent natural gas companies from Pittsburgh that are involved in the Marcellus Shale reservoir in the region. This includes the parent company of the operator of the contentious Mariner East pipeline.Mountain Valley Pipeline
In the states of West Virginia and Virginia.
Senator Joe Manchin, a Democrat from West Virginia, played a crucial role in passing last year's comprehensive legislation that allocated significant funds towards climate initiatives. He is also a proponent of the $6.6 billion endeavor to transport natural gas across Appalachia. However, critics argue that the pipeline would produce the same amount of carbon pollution as 23 coal-fired power plants and damage forested areas along its 303-mile route.
The center also encompasses a $1.6 billion plant being built in northern Pennsylvania, which aims to generate nearly emission-free hydrogen from natural gas.
According to Perry Babb, president of KeyState, a company that owns and develops the Pennsylvania site, this is a significant event for Appalachia, as the facilities are located in regions that were heavily reliant on coal.
Collaborators in the Appalachian center suggest the possibility of utilizing heat, steam, and pressure to produce hydrogen from methane, while simultaneously capturing any resulting carbon dioxide.
The Mid-Atlantic region, consisting of Delaware, Pennsylvania, and New Jersey, is focused on promoting a sustainable environment by utilizing electrolysis to produce hydrogen from renewable energy sources such as wind, solar, and nuclear power.
The Alliance for Renewable Clean Hydrogen Energy Systems in California has been chosen as one of the other projects. This project aims to create hydrogen using renewable energy and biomass. Its goal is to create a model for reducing carbon emissions in public transportation, heavy duty trucking, and port operations, which are major contributors to air pollution in the state.
The Gulf Coast Hydrogen Hub will be based in Houston, which has long been known as the energy hub of the United States. The hub aims to produce large quantities of hydrogen from both natural gas and renewable sources.
The Heartland hub, located in Minnesota, aims to reduce carbon emissions in agricultural fertilizer and promote the use of clean hydrogen in electricity production and heating for cold climates. In addition, it intends to provide tribal communities and local farmers with the opportunity for equity ownership.
The Midwest center located in Illinois, Indiana, and Michigan aims to incorporate hydrogen into various industries such as steel and glass production, power generation, heavy-duty transportation, and sustainable aviation fuel. The center intends to utilize renewable energy sources, natural gas, and nuclear energy.
The eastern Washington-based hub in the Pacific Northwest will utilize hydropower and other sustainable sources to generate pure hydrogen.
Senator Patty Murray from Washington state referred to the hub as "exciting news for the Pacific Northwest." She also mentioned that it will generate numerous job opportunities and ensure that Washington remains at the forefront of developing the green hydrogen economy.
Almost all states have participated in at least one proposed hub, with many collaborating in the hopes of benefiting from the economic growth and potential for thousands of jobs. Large companies in the fossil fuel industry, as well as those in renewable energy and researchers in universities and government labs, are also involved.
A lot of individuals who advocate for the protection of the environment do not support the use of hydrogen.
Environmental organizations are doubtful, stating that although hydrogen is a renewable energy source, it requires a significant amount of energy to create. Using electricity from coal or natural gas to produce hydrogen leads to a larger carbon footprint compared to directly burning the original source fuel.
Silas Grant, a campaigner with the environmental group Center for Biological Diversity, criticized the administration's use of hydrogen as a deceptive tactic in their failure to follow through on their promises to effectively address climate change and support communities in transitioning to sustainable energy sources.
More More
Source: cbsnews.com