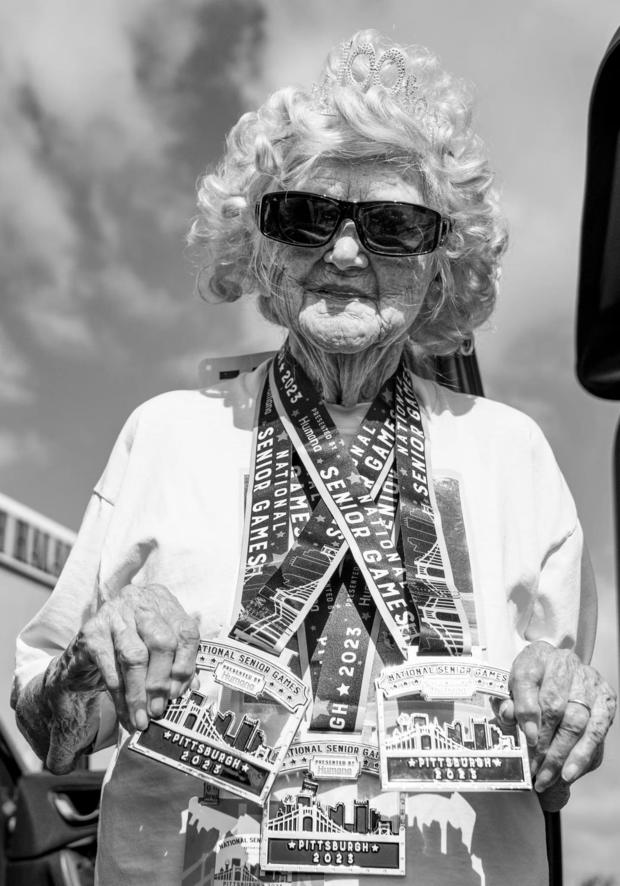 Golden girl: Marylander Wally Dashiell, turning 100, is unstoppable at the Senior Olympics
BALTIMORE — If Kent Island has an icon, it is Wally Dashiell. In just a few days, she will celebrate her 100th birthday, and for more than 60 of those years, she taught dance to thousands of grateful students.
If that wasn't enough, for well over 30 years, she has broken records and won gold at Senior Olympics contests around the country. In fact, just this summer, at the age of 99, she competed in track and field at the games in Pittsburgh.
The moment I saw this picture by the Baltimore Banner's Jessica Gallagher of Wally decked out in her ribbons at the age of 99, I knew I had to meet her.
If you're attending the big party on Kent Island this Saturday to celebrate Wally's 100th, I recommend bringing chocolate!
Wally is a cancer survivor. She's had knee and hip replacement surgery and is in the Senior Citizens Hall of Fame. And she's already planned her own funeral.
One of her directives: each person who attends will be given one of her thousands of medals to remember her by.
For thousands of young dancers Wally's home in Stevensville, Kent Island, was where you went to learn to dance. Wally decided it was time to close the studio in 2014, but she still lives on the second floor, surrounded by memories of a remarkable life.
Born in Germany in 1923, it was at a post-war dance she met American Army Sgt. George Dashiell.
"He comes up and asks me if I would like to dance," Wally said. "So we danced all night. And then he asked me if I could meet him again and we did, and we did, and we did."
And they moved to his native Cambridge, Maryland. Soon after, in 1948, Wally opened a dance studio. At first, all her students were white.
"One day a lady came, a Black lady with her daughter, and wanted to know if I could teach her and I told her if I do I will lose my white students because, Cambridge, you have never seen such a segregated town," she said. "I didn't know what segregation was. From Germany? I had never heard of it."
And she didn't like it. So Wally went against local prejudice and, by 1960, fully integrated her academy and every performance.
There was a clause in there: "I do not segregate," she said. "I only lost about two or three students."
Wally decided to stop teaching at the age of 89, but she was already a star competitor in another field of athleticism.
Wally has always been athletic. In 1996, she was chosen to run from Baltimore to Annapolis with the Olympic torch.
She was skiing slalom into her 70's, and winning! On a lark, she entered the Senior Olympics in swimming in 1991.
To my surprise, I came in second and I had my silver, and I went, 'oh, I like that," she said. "And then I went out and looked at the track, and they were having so much fun with the javelin, and I thought 'oh, I like that better than swimming in that dumpy pool.'"
Track and field became her sport.
"Discus, javelin, shot put and hammer – later on, they added hammer, and I loved that," Dashiell said.
In the over 30 years since, Wally has consistently broken national records, including her favorite, the hammer throw, which she had to give up at 97 because of her vision.
Hundreds and hundreds of medals fill Wally's home. She competes against people in her age group and when she was 90, she ended up in a league of her own.
"We had a nice group of about 5 or 6 and we stayed together, and gradually every year one of them would drop out, which was sad," she said. "I ended up the only one in the 100 age group. I'm not surprised."
Wally thinks part of the reason she is so healthy and is about to celebrate this important birthday is because she continues to do things like the senior games.
Here's her advice:
"Don't give up. Keep going. Be active. Eat healthy," Wally said. "Eat healthy. That means a lot of chocolate to me."
Go Behind the Lens with Denise Koch:
Denise Koch
Source: cbsnews.com