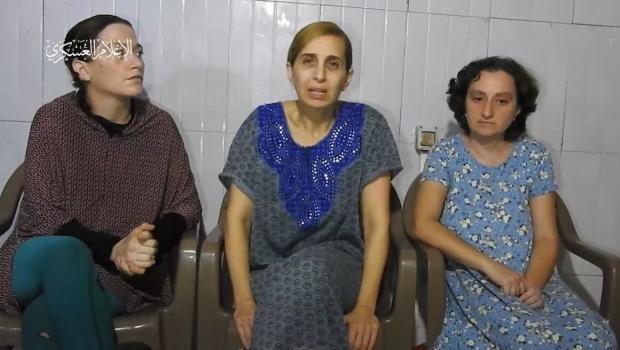 Hamas has shared a video showing Israeli captives in Gaza requesting that Prime Minister Netanyahu agree to a prisoner exchange.
Palestinian people over the dire humanitarian situation in the Gaza Strip, has agreed to a ceasefire with Israel.
Hamas, a Palestinian militant organization, has agreed to a ceasefire with Israel after facing increasing anger from the Palestinian population regarding the dire humanitarian conditions in the Gaza Strip. on Gaza
The Israeli army's strikes on Gaza by both land and air.
On Monday, a brief video was shared by , featuring three individuals who were among the 230 hostages taken by the group during the violent terror attack on October 7th. The three women, believed to be held by Hamas in Gaza, are seen sitting in between each other. In the video, one of the women directly addresses Israeli Prime Minister Benjamin Netanyahu with a passionate message, criticizing him for his failure to stop Hamas' attack and secure the release of the hostages.
The video clip does not show any other individuals and it is uncertain how willingly the woman speaking shared her comments. It is also unclear if her statement was influenced by Hamas.
Daniel Aloni, the woman speaking, was abducted along with her daughter while visiting family at Kibbutz Nir Oz.
location of a violent Hamas assault
On October 7th, she begins by directing her words at Netanyahu, stating: "You made a promise to liberate us all, yet we are left with the consequences of your political and military shortcomings."
An Israeli who was released from captivity by Hamas discusses their experience as a hostage, timestamp 04:27.
The woman proceeds with her communication, most likely sent under the direction of the Hamas fighters who are holding her, to inquire whether the Israeli government, which has made substantial advancements…
Increased both its air attack and its ground maneuvers.
In Gaza in recent days, there have been statements such as, "Do you wish to annihilate us? Are you intending to destroy us with military force?"
She shouts, "Set us free at once!" She also implies that Hamas has proposed releasing all hostages in exchange for the release of about 6,000 Hamas members currently detained in Israeli prisons.
"Free the prisoners and release us all. Let us reunite with our families!" Aloni cries out, growing more emotional as she shouts into the camera, "Do it now!"
Following the video's release, Netanyahu's office released a statement denouncing it as "manipulative psychological warfare" by Hamas and pledging to take all necessary actions to secure the safe return of all abducted and missing individuals.
The quote included in the statement was from Netanyahu and addressed Yelena Trupanov, Daniel Aloni, and Ramon Kirsht. These individuals were reportedly kidnapped by Hamas, an organization accused of committing war crimes. Netanyahu expressed his support and empathy for the abductees.
The prime minister stated that we are making every effort to reunite all the abducted and disappeared individuals with their families.
According to reports, Trupanova was taken from Nir Oz and Kirsht from Kibbutz Nirim. In the video, Trupanova is seen on the right while Kirsht is the third woman.
Hamas has currently liberated four captured individuals from their possession on October 7th, including two women from Israel and two individuals with dual U.S.-Israeli citizenship. The release was deemed to be on humanitarian grounds.
After being abducted and beaten, an elderly woman from Israel who was released last week shared with the media that she was treated kindly by her captors while being held hostage for two weeks in the underground tunnels of Hamas in Gaza.
Earlier, Hamas had shared some videos featuring hostages, but the video uploaded on Monday marked the first instance where one of the captives could be seen or heard giving a statement.
Hamas, a group considered a terrorist organization by the U.S., Israel, and many European countries, has asserted – without providing proof – that over 50 captives have been fatally harmed due to Israel's continuous attacks on the Gaza Strip in the past three weeks.
Soldier from Israel who was "set free while engaged in ground operations with the IDF".
According to Netanyahu, one of the main goals for his government during the ongoing conflict with Hamas is to secure the release of hostages. On Monday, the Israeli military reported their first successful step towards achieving this goal.
The IDF announced that Private Ori Megidish, a female soldier, was freed during their ground operations in Gaza. She had been taken captive by the Hamas terrorist group on October 7th.
According to the statement, Megidish has undergone a medical assessment and is in good condition. She has also reunited with her family, as shown in the photo released.
The previous mention in this article stating that Aloni had mentioned a "mistake" on Oct. 2 has been amended to clarify that she was referring to Oct. 7, the day of the Hamas terrorist attack.
More More
Source: cbsnews.com