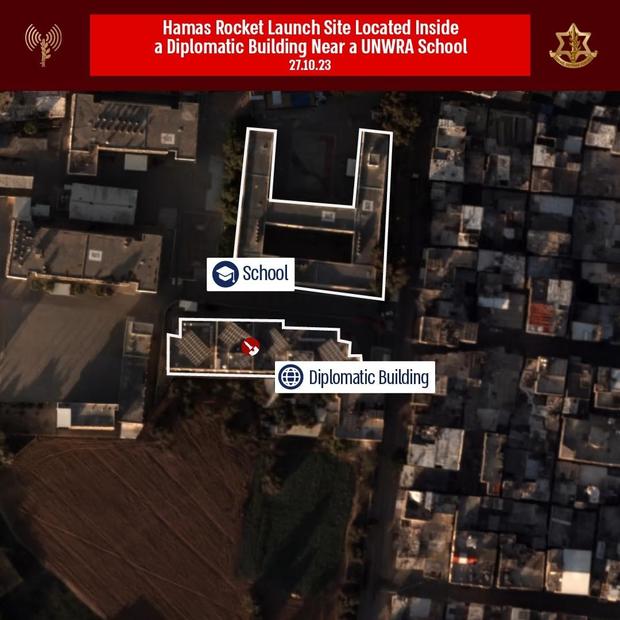 Israel has released images depicting the placement of weapons by Hamas within and in close proximity to U.N. buildings in Gaza, including educational institutions.
Hamas of launching hundreds of rockets into Israeli territory
Israel has accused Hamas, a Palestinian militant group, of firing numerous rockets into Israeli territory.Hamas
Accused of committing "double war crimes" for launching rockets at civilians, including from and near U.N.-run facilities in Gaza, which are designated as off-limits. One high-ranking U.N. official who spoke with CBS News supports this accusation.
According to Israeli officials, Hamas has increasingly utilized U.N. facilities to store and launch weapons in Gaza over the past eight years, posing a greater risk to U.N. staff and civilians. This practice of using civilians as human shields was previously confirmed during the 2014 conflict.
According to U.N. officials, 99 employees have died in Gaza as a result of the current conflict incited by the Hamas leaders in the Palestinian territory.Oct. 7 terror attack
UNRWA, the United Nations Relief and Works Agency for Palestinian Refugees, has a staff of over 13,000 working in Gaza to manage schools, health clinics, and other essential services.
The principle of armed conflict and protection, as stated by Conricus, condemns Hamas' violation of using U.N. facilities as both a double crime of war.
The IDF has evidence that photos depict the presence of Hamas rockets at United Nations facilities.
The Israel Defense Forces (IDF) released three recent images to CBS News. One of the photos allegedly captured a Hamas rocket launching site situated within a UNRWA warehouse facility in southern Gaza, while another showed a launch site in close proximity to an UNRWA-operated school.
As Israel moves into the sites during its
Infrastructure activities on the ground in the Gaza region.
According to Conricus, the current activity involves displaying images and footage of their discoveries. These include Boy Scout camps containing rocket launchers, playgrounds with rocket launchers nearby, and military materials and bases within school grounds. Additionally, Conricus also claims that there is evidence of Hamas misusing hospitals and ambulances.
Hamas also takes advantage of its extensive network of tunnels
Moving through the streets of Gaza residential areas.
During a U.N. committee meeting on Tuesday, U.S. alternate Ambassador to the U.N. Robert Wood stated that instead of using international aid for its intended purpose of constructing schools, roads, hospitals, and proper housing for civilians, Hamas has utilized the resources to build an underground city with extensive tunnels spanning hundreds of miles.
Hamas's atrocities and the grave situation are not the fault of innocent Palestinian civilians.
Gaza is facing a serious humanitarian crisis.
This week, U.S. Secretary of State Antony Blinken wrote that they are the victims of it.
Israel claims that Hamas has increasingly utilized U.N. facilities over time.
Hamas has a history of using United Nations buildings to store weapons and house fighters. In the previous major conflict with Israel from 2012 to 2014, an investigation by the U.N. concluded that weapons were stored in a school run by UNRWA in the Gaza Strip, controlled by Hamas. It was also determined that it was highly probable that an unknown Palestinian armed group could have utilized the school as a base for launching attacks.
In the 2015 report, former Secretary-General Ban Ki-moon expressed his disappointment that Palestinian militant groups were endangering United Nations schools by using them to conceal their weapons.
The United Nations Relief and Works Agency (UNRWA) for Palestinian refugees in the region expressed strong condemnation towards the individuals or groups responsible for violating its premises under international law. They emphasized the importance of respecting the sanctity and integrity of U.N. buildings, especially during times of heightened violence.
Juliette Touma, the communication director of UNRWA, stated to CBS News that the organization is dedicated to remaining in Gaza and providing much-needed aid to those who require it. However, they are currently facing considerable obstacles. They are optimistic about receiving more aid, ending the blockade, and establishing a humanitarian cease-fire as soon as possible.
When questioned about the IDF's photos, Touma stated that she did not have detailed knowledge about weapons present or nearby UNRWA facilities. However, she confirmed that UNRWA conducts inspections of all its facilities throughout Gaza. These inspections were completed in late September and covered all U.N. facilities in the Gaza Strip.
Touma stated that UNRWA provides the locations of their facilities daily to all involved parties, including Israel and the de-facto authorities (Hamas).
However, on Wednesday, there was evidence of growing animosity between the U.N. and Hamas as Salama Maruf, the head of Hamas's media bureau, accused UNRWA of working with Israel to forcibly remove Gaza residents. According to the AFP news agency, Maruf stated, "UNRWA and its officials are complicit in this disaster that is affecting the people of Gaza, especially those in Gaza City and the surrounding areas who have been instructed to evacuate."
The United Nations representative, Stephane Dujarric, rejected the accusation and stated to the press at the UN building on Wednesday that the UN Relief and Works Agency (UNRWA) and the UN as a whole do not cooperate with any particular group. He emphasized that their main priority is to assist the innocent civilians in Gaza during this terrible and unimaginable time in their past, and they will continue to fulfill this mission.
The Israeli Defense Forces have stated that it is not a secret as to who is placing weapons in United Nations schools, and they believe that Hamas is currently doing so at an increased rate.
"Based on our information, this has not only been occurring, but it has also been increasing in scope over time. There have been reports of tunnels being built under U.N. facilities, as well as rocket launchers being placed in or near these compounds. Additionally, Hamas has been consistently endangering U.N. personnel and facilities," said Conricus in an interview with CBS News.
He stated that the biggest flaw is the lack of clear and definitive statements from U.N. leaders condemning Hamas for their actions, which put U.N. personnel in danger.
The United Nations faces a delicate equilibrium in Gaza.
This week, the United Nations Secretary-General, Antonio Guterres, stated that Hamas and other militant groups are using civilians as human shields and persist in firing rockets without discrimination towards Israel.
The use of schools or other facilities in Gaza run by U.N. agencies by Hamas has been a topic that U.N. officials have been hesitant to discuss.
According to a U.N. official who spoke on the condition of anonymity, it would be risky for our staff to publicly accuse Hamas of utilizing our buildings or schools.
The speaker stated that the U.N. was not informed about any concealed weapons at their facilities, similarly to their unawareness of this happening in Gaza prior to their investigation following the previous conflict in 2015. They also made note of the challenges a humanitarian organization faces when attempting to uncover deliberately hidden objects.
cannot reword"
If the Israelis, despite their advanced intelligence capabilities, are unable to rephrase
I was unaware of an impending attack.
How can we determine if weapons are concealed under or in close proximity to the U.N. in Gaza?
The official stated that at present, there is a humanitarian crisis and our main focus is ensuring the safety of our 13,000 employees. It is especially crucial as 99 U.N. staff members have already lost their lives in the conflict.
Another high-ranking United Nations member, who requested to remain anonymous while discussing a delicate matter, informed CBS News that it is believed Hamas is utilizing U.N. buildings in some capacity. This includes mosques, hospitals, and schools, which are all granted special protection under international law.
The United States and Israel have reached a consensus on several matters regarding the ongoing conflict, but their statements diverged on Wednesday. Israeli Prime Minister Benjamin Netanyahu declared that Israel will assume "security responsibility" in Gaza after the war, while high-ranking U.S. officials advocated for a future led by Palestinians.
The discrepancies were once more noticeable in Israeli intelligence. When questioned about the photographs provided by the IDF, a U.S. official informed CBS News that they have not received any evidence indicating the presence of Hamas rockets at U.N. facilities. However, another U.S. official stated, "Hamas has a history of storing weapons at U.N. facilities, putting U.N. staff at risk."
A high-ranking United Nations representative acknowledged that Hamas currently holds control in Gaza. They also emphasized the importance of U.N. agencies ensuring the safety of their employees while fulfilling their duty to aid civilians affected by the conflict.
Reporting for CBS News, Eleanor Watson provided contributions.
More More
Source: cbsnews.com