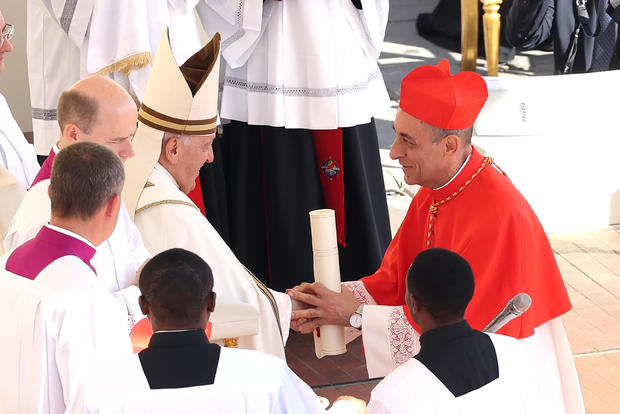 The Vatican has announced that transgender individuals can be baptized and serve as godparents, although there are some conditions that must be met.
On Wednesday, the Vatican declared that transgender individuals may receive baptism and act as godparents, and may also serve as witnesses for church weddings, as long as certain requirements are met. This response was issued in Portuguese following a query from a Brazilian bishop regarding the church's position on transgender individuals in its community.
The official statement from the Vatican declared that individuals who identify as transgender and have undergone hormone therapy or sex reassignment surgery may be baptized on the same terms as other followers, as long as there is no potential for causing controversy or confusion among the congregation. However, the document did not specify what actions would be considered a public scandal.
Moreover, the declaration permits transgender minors to receive baptism and acknowledges that transgender individuals can fulfill the role of witnesses at marriage ceremonies. It further states that a homosexual couple may baptize a child who is adopted or born through surrogacy, as long as there is a reasonable expectation that the child will be raised in the Catholic faith.
On Thursday, New Ways Ministry, a Catholic organization dedicated to fostering connections between the Catholic Church and the LGBTQ+ community, published an opinion piece.
The Church's stance on transgender godparents is unclear, as it allows them to serve in these roles as long as there is no potential for causing scandal.
The church stated that the decision is left to "pastoral prudence," but did not give any details. They also clarified that according to the church, this function is not considered a right.
DeBernardo expressed concern about the document's lack of clarity, stating that if church leaders do not use pastoral discretion when following this guideline, it could potentially lead to the establishment of other policies that would exclude certain individuals from participating in other aspects of church activities.
DeBernardo added that he hopes church leaders will embrace these guidelines and follow Pope Francis' lead in offering an extravagant welcome, instead of using them to uphold outdated restrictions.
According to Reuters, the head of the Dicastery of the Doctrine of the Faith, Argentine Cardinal Víctor Manuel Fernández, signed the church document, which was then approved by Pope Francis last month.
Earlier this year, Pope Francis and protestant leaders from England and Scotland
I spoke out against the making of homosexuality a criminal offense.
Referring to laws that unfairly target and marginalize LGBTQ+ individuals as both a "wrongdoing" and a "violation of justice."
In February, the pope stated that individuals with homosexual inclinations are God's children. He further expressed that God loves and supports them.
"God is not afraid of new things."
Earlier this year in January, the pontiff stated in a conversation with the Associated Press that "The Almighty is not hesitant towards novel ideas.""
Although homosexuality is not considered a criminal act.
"Homosexual acts are considered a violation of religious beliefs and morality."
According to him, engaging in same-sex sexual activity is deemed a "sin." He also emphasized that it goes against religious principles and moral values.
Families with children who identify as LGBTQ+.
We should refrain from "condemning" them.
This was the establishment of the Church of England.outlined proposals
The church has decided to reject performing same-sex marriages within its walls and will maintain its belief that marriage should only be between a man and a woman for their entire lives. This conclusion was made after a five-year-long discussion.
"Translation assistance was given by Frederico Levy."
C Mandler
Source: cbsnews.com