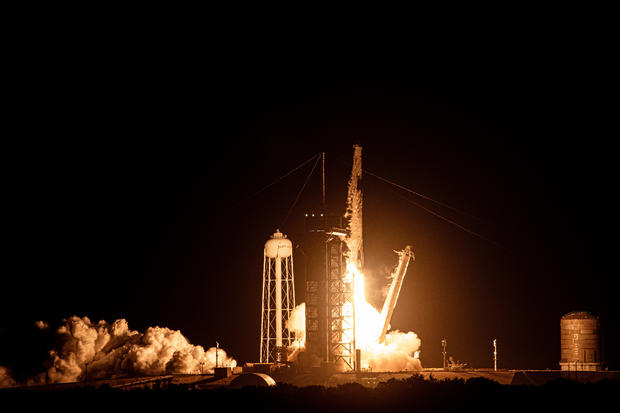 The 29th cargo flight to the International Space Station is launched by SpaceX.
Lighting up the night sky, a SpaceX Falcon 9 rocket streaked into orbit in spectacular fashion Thursday, kicking off a 32-hour rendezvous with the International Space Station to deliver 6,500 pounds of research gear, crew supplies and needed equipment.
According to Dana Weigel, the deputy program manager at the Johnson Space Center, the crew will also have access to fresh produce, cheese and pizza kits, as well as some festive treats like chocolate, pumpkin spice cappuccinos, rice cakes, turkey, duck, quail, seafood, cranberry sauce and mochi. These items will be available on board the space station.
Takeoff occurred at 8:28 p.m. EDT from the renowned Pad 39 at Kennedy Space Center in Florida, coinciding with the rotation of Earth and the alignment of the seaside launch site with the plane of the space station's orbit. This is necessary for successful rendezvous missions with objects traveling at speeds exceeding 17,000 mph.
More More
Source: cbsnews.com