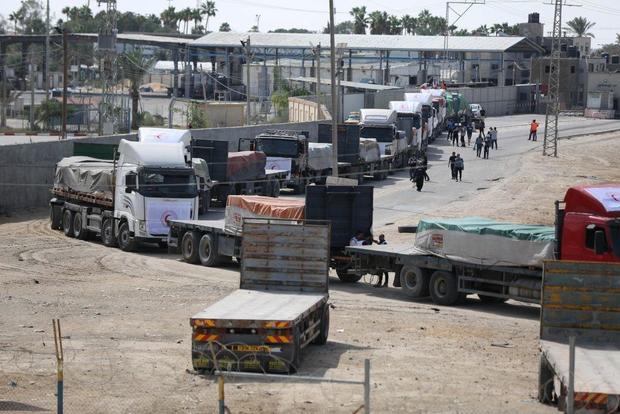 What is the reason for the lack of fuel in Gaza and how does it impact the Palestinian population?
Almost three weeks after the terror attack by Hamas militants against Israel sparked a wave of retaliatory airstrikes on the Gaza Strip, international humanitarian agencies are warning that the Palestinian territory is running out of critical and life-saving resources, especially fuel.
Gaza, a narrow stretch of land along the Mediterranean Sea between Israel and Egypt,
The enclave has been subjected to an Israeli military blockade ever since Hamas assumed control in 2007.
Gaza, with a population of approximately 2.3 million people, relies heavily on Israel for basic necessities such as clean water, food, electricity, and fuel for their sole power plant.
The Israeli government implemented measures to limit the amount of electricity and fuel provided to Gaza, claiming that these resources were being used by the Hamas government. This caused a worsening of the energy crisis in the Gaza Strip, as tensions between Hamas and the Palestinian Authority increased. This information was reported by the United Nations Office for the Coordination of Humanitarian Affairs.
Issued a directive to increase restrictions on the Gaza blockade.
Gallant stated that no items will be permitted to enter or exit. This includes fuel, electricity, and food supplies.
were turned back at a checkpoint near the city
During the weekend, a total of twenty trucks loaded with essential supplies such as potable water and medical resources were denied entry at a checkpoint located close to the city.
Access was granted to Gaza.
Aid was permitted to enter the territory through the Rafah crossing in Egypt for the first time since Israel initiated war earlier this month.
The Health Ministry in Gaza, which is run by Hamas, reported that the recent Israeli airstrikes have resulted in the deaths and injuries of numerous Palestinians. The World Health Organization stated that four trucks bringing medical supplies, including medicine for chronic illnesses, trauma treatment, and essential supplies for 300,000 people, crossed into Gaza on Saturday. Additionally, 44,000 bottles of drinking water, sufficient for 22,000 individuals for one day, were delivered by trucks with the help of UNICEF.
However, only a small amount of fuel has been permitted, and on Tuesday, the primary humanitarian organization of the United Nations in Gaza cautioned that they would be unable to sustain their operations in the area without it.
The UN Relief and Works Agency for Palestine Refugees (UNRWA) stated on Tuesday that if fuel is not obtained urgently, they will be forced to cease operations in the #GazaStrip starting tomorrow night. At the same time, U.N. Secretary-General Antonio Guterres cautioned the Security Council that aid cannot be delivered, hospitals will lose power, and drinking water cannot be purified or pumped without fuel. According to U.N. representatives, Gaza requires approximately 160,000 liters (42,000 gallons) of fuel per day to meet the basic needs of its people.
According to a statement on social media, the World Health Organization reported that 33% of Gaza's hospitals are unable to operate due to a shortage of fuel. They also acknowledged the significant strain on the territory's medical resources as a result of the Israeli military blockade.
The WHO stated that they successfully supplied 34,000 liters of fuel to four main hospitals in southern Gaza and the Palestine Red Crescent Society on Tuesday in order to support their ambulance services. However, the amount was only sufficient to maintain the operation of ambulances and essential hospital functions for slightly more than 24 hours.
The organization stated that without immediate delivery of essential fuel and health resources, numerous at-risk patients in Gaza are in danger of dying or experiencing medical issues. This is due to the closure of vital services caused by power shortages. These patients include 1000 individuals relying on dialysis, 130 premature infants in need of various forms of care, and critical patients in intensive care or needing surgery who rely on a consistent and uninterrupted electricity supply to survive.
According to a statement from Israeli military representative Daniel Hagari on Tuesday, the decision has been made to withhold fuel shipments to Gaza due to fears that Hamas could intercept them and utilize them to continue acts of aggression, as reported by Reuters.
Hagari stated that Gaza will not receive any petrol as it is being used by Hamas for their military infrastructure.
In response to a discussion on X, the UNRWA warned that withholding fuel could have serious humanitarian consequences. The Israel Defense Forces countered by stating that Hamas has been storing fuel in tanks within Gaza and not distributing it to the Palestinian people. CBS News has not been able to confirm this statement.
"The Israeli military has shared an aerial photo of fuel tanks located inside Gaza, which hold over 500,000 liters of fuel. They appear as two rows of white circular containers on the ground. The Israeli military suggests asking Hamas for access to the fuel."
Source: cbsnews.com