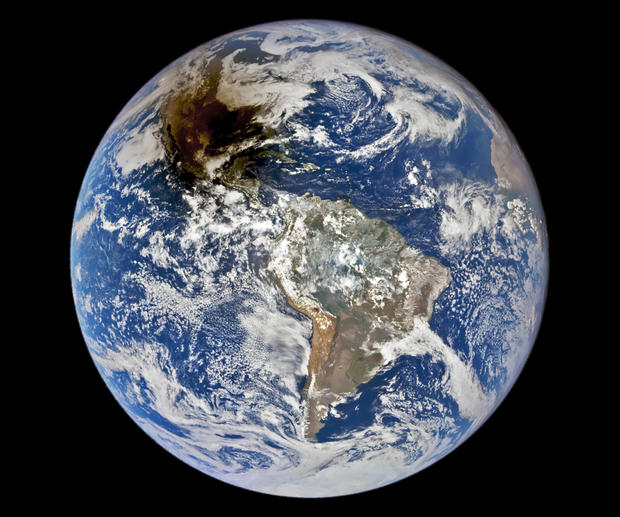 During a solar eclipse, a satellite image shows the shadow of the moon passing over the United States.
NASA reported that a recent satellite photo depicted a large area of the United States covered by a dark patch. However, this was actually the moon, which created an eclipse and cast a shadow over North America last weekend.
NOAA's DSCOVR satellite
The breathtaking image was captured by the Earth Polychromatic Imaging Camera, also known as "EPIC," which is installed on the NOAA's DSCOVR satellite.DSCOVR satellite
DSCOVR, short for Deep Space Climate Observatory, was initially sent into orbit in February 2015 in a collaboration between NASA, the National Oceanic and Atmospheric Administration, and the U.S. Air Force. It continuously tracks solar wind patterns and supplies crucial data for the promptness and precision of NOAA's notifications and predictions for space weather occurrences, such as geomagnetic storms.
The "EPIC" camera is capable of taking stunning photos of Earth from its special location between the Sun and our planet. NASA refers to this spot as "gravitationally stable" and it is approximately 1.5 million kilometers, or over 930,000 miles, away from Earth's surface.
On Tuesday morning, I posted the picture on X, the social media platform previously known as Twitter.
The agency reported that the shadow, also known as the umbra, from the Moon was observed falling over the southeastern coast of Texas from a distance of approximately 1.5 million kilometers from Earth. The DSCOVR satellite's EPIC instrument captured an image of this occurrence on Oct. 14.
"ring of fire".
NASA states that an annular eclipse occurs when the moon passes between the Sun and the Earth, but does not fully cover the Sun's light due to its distance. This happens because the moon follows an elliptical path around the Earth, and during an annular eclipse, it is at its farthest point from the Sun. This can create a reddish-orange ring in the sky, also known as a "ring of fire.""ring of fire."
NASA reported that the event on Saturday was partially visible throughout the United States, Mexico, Central America, and South America. However, those in the path of annularity, where the moon appeared to cover the largest portion of the sun, likely had the best view of the eclipse. The path of annularity is represented by the dark area in the new "EPIC" image and traveled from Oregon to Nevada, Utah, Arizona, Colorado, and New Mexico before passing over Texas and the Gulf of Mexico.
NASA announced that the next annular solar eclipse that can be seen from the United States will occur on June 21, 2039. However, a total solar eclipse will be visible from Texas to Maine on Monday, April 8, 2024.
More More
Source: cbsnews.com