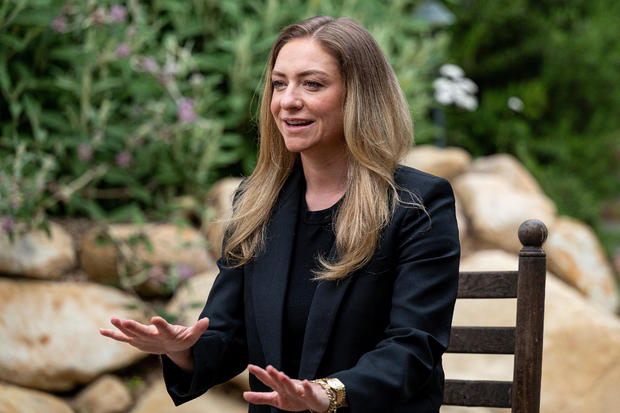 Have Americans grown tired of using dating apps?
The departure of Whitney Wolfe Herd as Bumble's CEO indicates a decline in Americans' interest in online dating.
The 34-year-old entrepreneur founded the woman-centric dating app nearly a decade ago and took the company public in 2021, turning her into what some described as the youngest self-made female billionaire. Herd also co-founded dating app Tinder.
On Monday, Bumble announced that Lidiane Jones, the current CEO of Slack, will take over as the new chief executive, replacing Herd. However, Herd will still be involved with Bumble as the executive chair, while the company is based in Austin, Texas.
In the third quarter, the company's net income was $23.1 million and its revenue was $275.5 million, which is an increase from the previous year's $232.6 million. However, the company's stock has decreased significantly, with shares closing at $13.42 on Monday, a 40% drop from its initial market price of $76 two years ago.
During the company's earnings call, Herd stated that with the increasing prevalence of loneliness around the world, reaching the point of being deemed an epidemic in the U.S., there is great potential for our apps to expand and positively affect people's lives.
Are younger individuals avoiding apps?
However, for dating enterprises, the drive to capitalize on this sense of isolation has intensified as a result of a surge in apps catering to various types of individuals and indications that online dating is losing its appeal among younger generations in the United States.
Tinder reported a decrease in paid subscribers during the third quarter and forecasted lower revenue for the fourth quarter compared to what analysts predicted. Bumble announced an increase in paying users on its apps, with 3.8 million in the most recent quarter and 3.3 million in the same quarter last year.
According to Citigroup analyst Ygal Arounian, the younger generation, specifically Generation Z, are not utilizing dating apps in the traditional manner. Instead, many are turning to social media platforms such as Instagram and TikTok to connect with potential romantic partners. This differs from the popular method of swiping left and right commonly seen in online dating.
According to a recent report by Morgan Stanley, dating apps have faced challenges in attracting new users in the past few quarters.
According to analysts at Morgan Stanley, the top dating apps are showing signs of reaching saturation, maturity, or excessive monetization as their revenue growth has slowed in 2022. The industry as a whole reported a revenue of approximately $2.6 billion for the year, and predictions for 2023 have been adjusted accordingly.
A recent study conducted by Axios and The Generation Lab found that approximately 80% of college students do not regularly utilize dating apps. Instead, over half of the participants reported meeting their significant others in person, while only 15% credited dating apps for their relationships.
Industry analysts report that economic uncertainty is causing singles to hesitate when it comes to spending money on dating app subscriptions.
According to Arounian, there are some difficulties being faced in terms of the overall increase in user numbers and the amount of time spent on online dating apps within the industry.
Many dating apps offer their services for free, but also offer a paid option for an enhanced experience that claims to increase the likelihood of finding high-quality matches.
Jones must demonstrate her ability to discover fresh opportunities for expansion in order to regain the trust of investors on Wall Street.
According to Jefferies analyst James Heaney, the upcoming CEO's new strategy will be a crucial factor in investors' decisions. As the CEO is still relatively unknown, there will be a period of time to better understand how they plan to approach the business.
There has been a change in leadership at Bumble, as another top executive, Tariq Shaukat, resigned from his role as President in May.
"Many have raised concerns about the current state of the industry, especially with the recent decline of Tinder. This has cast a negative light on the industry," stated Heaney. "However, I believe that the challenges faced by Tinder are unique to their platform. There is still a lot of potential for growth in the online dating market and many individuals are willing to invest in these apps."
Megan Cerullo
Source: cbsnews.com