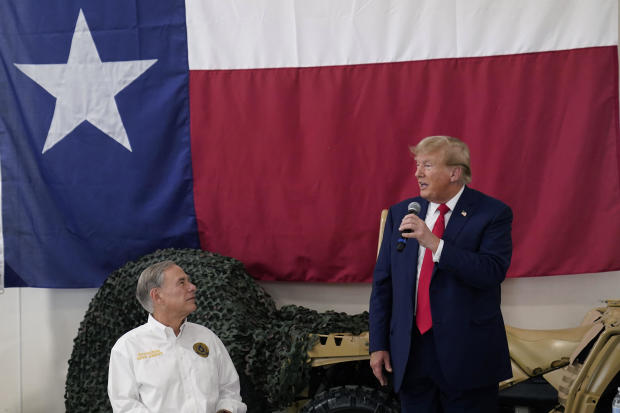 Texas Governor Greg Abbott endorses Trump at the border where they both outline their strict views on immigration as members of the Republican party.
In Edinburg, Texas, former President Donald Trump was endorsed by Governor Greg Abbott for his potential 2024 presidential campaign at a rally near the U.S.-Mexico border. This area has been significant in the political paths of both Republicans.
Abbott, a strong opponent of President Biden's immigration strategies, expressed strong support for Trump in Edinburg, a small town in the Rio Grande Valley of Texas. This region is known for its high numbers of illegal border crossings and has seen significant growth in Republican support within its largely Hispanic population in recent times.
Following the distribution of meals to members of the Texas National Guard and troopers participating in Operation Lone Star, a border security effort, Trump and Abbott warmly hugged each other on a stage adorned with Texas law enforcement helicopters, a plane, and an armored vehicle.
escalated his harsh rhetoric on immigration and the scope of his promises on the issue, which some of his advisers believe partially catapulted him to victory over former Secretary of State Hillary Clinton in 2016. In one recent interview, he claimed that migrants were "poisoning the blood of our country."
During his time as president, Trump implemented strict measures against both illegal and legal immigration. He made unprecedented efforts to reduce the number of immigrants allowed into the country, limit the availability of the asylum process, construct a significant amount of border wall, and terminate temporary deportation protections for hundreds of thousands of immigrants, including those who came to the U.S. as minors.
Trump has vowed to escalate his strict immigration policies if he wins the 2024 election. This includes conducting the biggest deportation effort in American history, broadening his travel restrictions, denying citizenship to children born in the U.S. to undocumented parents, and rejecting legal immigrants based on their political ideologies. He has not ruled out the possibility of reinstating his controversial practice of separating families at the border, which sparked widespread backlash and was discontinued in 2018.
Abbott, who is yet to announce support for a candidate for president, has prioritized immigration during his time as governor, making Texas the primary opponent of Mr. Biden's policies on migration and border control.
hold off on notifying workers that they must return to thefortify the banks
The state has instructed Texas troopers to detain migrant adults for trespassing and has allowed for the transportation of large numbers of migrants to Democratic-controlled cities, such as New York City and Chicago. This is in addition to the placement of razor wire and river barriers along the Rio Grande.
Abbott is expected to sign soon.what would be
"The strictest immigration law ever seen in the United States" – This law, called SB4, will give state law enforcement the authority to detain immigrants for new criminal charges related to illegal entry. It will also give state judges the power to order deportation for those believed to be in violation of the law.
The bill, which was approved by the Texas legislature in the recent month, has been criticized by the Mexican government, Democratic legislators, and the American Civil Liberties Union as harsh and in violation of the constitution. The ACLU has vowed to oppose the bill in court. Additionally, the enforcement of SB4 is likely to spark another legal dispute with the Biden administration, as immigration control is under federal jurisdiction.
statement
Last week, Mr. Biden's campaign for reelection highlighted Trump's 2024 immigration pledges, portraying them as extreme and inhumane in a statement released to the public.messaging campaign
It aims to motivate Latinos to vote against the ex-president.
During a press call on Saturday, Julie Chavez Rodriguez, campaign manager for Mr. Biden, expressed that Trump has not shown remorse for his extreme, inhumane, and un-American policies. She made these comments in anticipation of Trump's visit to the Texas border.
Biden is confronted with his own political difficulties regarding immigration, which is one of his least popular issues. Both Republicans and many Democrats are urging his administration to restrict the number of migrants entering through the southern border. This area has seen a significant increase in migrant apprehensions over the past three years, putting pressure on the Biden administration.
According to a recent statement from Steven Cheung, spokesperson for the Trump campaign, the former president is seeing an increase in support from Latino and other minority voters because they believe he is the only candidate capable of securing the border. Cheung criticized Mr. Biden for the significant rise in migrant crossings.
More
Source: cbsnews.com